Description
The Scope of Application
Pulse oximeter is a very important and common device to check patient blood-oxygen saturation (SpO2) level and pulse rate. As a small, compact, simple, reliable and durable physiological monitoring device, Fingertip pulse oximeter greatly enhances patient care. It is widely applied in clinic, hospital, social medical organizations, first aid and so on.
Features

Small & lightweight design ( total 28g without batteries )
Digital LEDs display
Display SpO2,PR,Pulse bar
Low power consumption
Automatically power off
Battery-low indicator
2 AAA alkaline or rechargeable batteries
Accommodates widest range of finger sizes from pediatric to adult
Electromagnetic Compatibility
This product complies with IEC60601-1-2 for electromagnetic compatibility Class B
Interference Resistance Capacity against Ambient Light

Deviation is smaller than ±1% between values of Oxyhemoglobin measured in natural lighting indoor condition and present lighting sources and that measured in dark room.
Operation Instructions
1. Installing two AAA batteries into battery cassette before closing its cover.
2. Open the clamp shown as in the picture below:
3. Put one of your fingers into rubber hole of the Oximeter (it is better to let your finger touch the bottom.) before releasing the clamp
4. Press the switch button for one time on front panel.
5. Do not rock your finger when starting test. Recommend you do not move your body at the same time.
6. Read correspondent data from display screen.
Declaration: Please use the medical alcohol to clean the rubber touching the finger inside of Oximeter, and clean the test sensor using alcohol before and after operation. (The rubber inside of the Oximeter is medical rubber, which has no toxin, and no harmful to the skin of human being).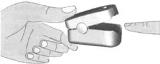 When you put finger into the Oximeter, your nail surface must be upward.
Brief Description of Front Panel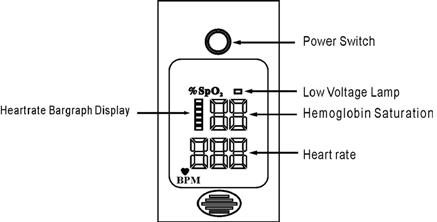 Product Accessories

One hang lace
Two batteries
One user manual
Patient Range

Adult and Pediatrics patients
SpO2

Measurement range: 70-100%

Resolution: 1%

Measurement accuracy:
80%-100%: ±2%
70%-79 %: ±3%
0%-69%: unspecified

Pulse Rate

Measurement range: 30-235 bpm
Resolution: 1bpm
Measurement accuracy:
30- 100: ±2 bpm
101- 235: ±2%

Display

Type: Digital LEDs display
Parameters: SpO2, PR, Pulse bar
Mode: 1 display mode

Alarm

Battery-low indicator

Battery


Type 2 AAA alkaline or rechargeable batteries
Operation time about 40 hours for normal operation

Environmental


Operation Temperature: 5℃-40℃
Storage Temperature: -20℃-55℃
Operation Humidity: RH≤85%
Storage Humidity: RH≤85%

Dimension  

58mm(W)×32mm(H)×34mm(D)

Weight

28g (without batteries)
Payment & Security
Your payment information is processed securely. We do not store credit card details nor have access to your credit card information.