What is A Wheelchair Power Assist Device?
Power assist or power add-on provides manual wheelchair users with an easy-to-use power boost. This technology can reduce the push frequency and force required for effective mobility. 
Users may achieve the maximum degree of independence, for example gain more independent freedom on ramp into home, over thresholds, on carpet, on inclines and other obstacles with greater ease. Besides, power assist allows the user to travel further with more endurance to function throughout the day to maintain the active lifestyle.
What Type of Person Would Benefit From Power Assist?
It is designed for people who are unable to walk but who can independently move in a wheelchair, for people who have pain in their shoulders and for people who want to prevent an overuse injury.
Some examples include:
The athlete who wants to continue in their sport and continue working out for years to come.
The office worker who uses power assist to wheel several blocks to his office, to maintain his energy throughout the day
The elderly gentleman who has suffered a CVA (Cerebrovascular Accident) who is a foot propeller and uses power assist for efficiency.
There are different types of power assist devices, differing by an attachment mechanism, power add-on position, mechanisms of control, and technology used.
Front Drive Power Assist
Front-drive power assist clips on to the front tubes or footplate of a manual wheelchair and converts it to a powered trike.
Hub-Mounted Power Assist
Hub-mounted power assist replaces original wheelchair wheels with motorised. Battery, controller and motor are all built-in the wheel and the wheel remains detachable for easy transportation.
A wheelchair may be activated through force on the pushrims to trigger the signal in motors to propel the wheels forward or may be operated by joystick.
Rear-Mounted Power Assist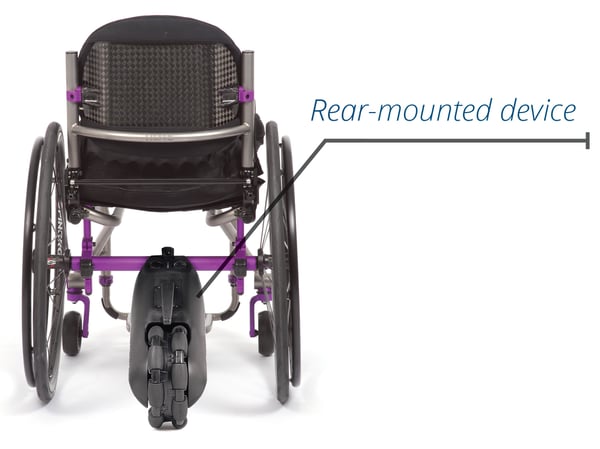 Rear-mounted power assist is a detachable, single motor component. It attaches to the wheelchair axle and connects the device via Bluetooth or switches to start, accelerate, and stop. Maneuvering and stopping the wheelchair is still guided by the user's hands on the handrims.
Not sure if you need a power assist device? Need some advices or help?
Contact our team today at 📞 +65 6254 4070 
Related Posts:
Do You Need A Power Assist Device?
References:
Permobil - Manual Wheelchair Guide
Types of Power Assist Devices