Description
Overview

Components

Specifications

FAQs
 Knee support for active stabilization and targeted pain relief
The new-and-improved GenuTrain® provides secure support for mild instability and relieves knee pain and swelling. With medical-grade compression provided by a comfortable knitted fabric, the GenuTrain knee brace produces intermittent massage during movement, relieving pain and stimulating the body's metabolic response. This improves circulation to bring more oxygenated blood to the affected tissue and reduces pain and swelling in and around the knee.
TARGETED AGAINST PAIN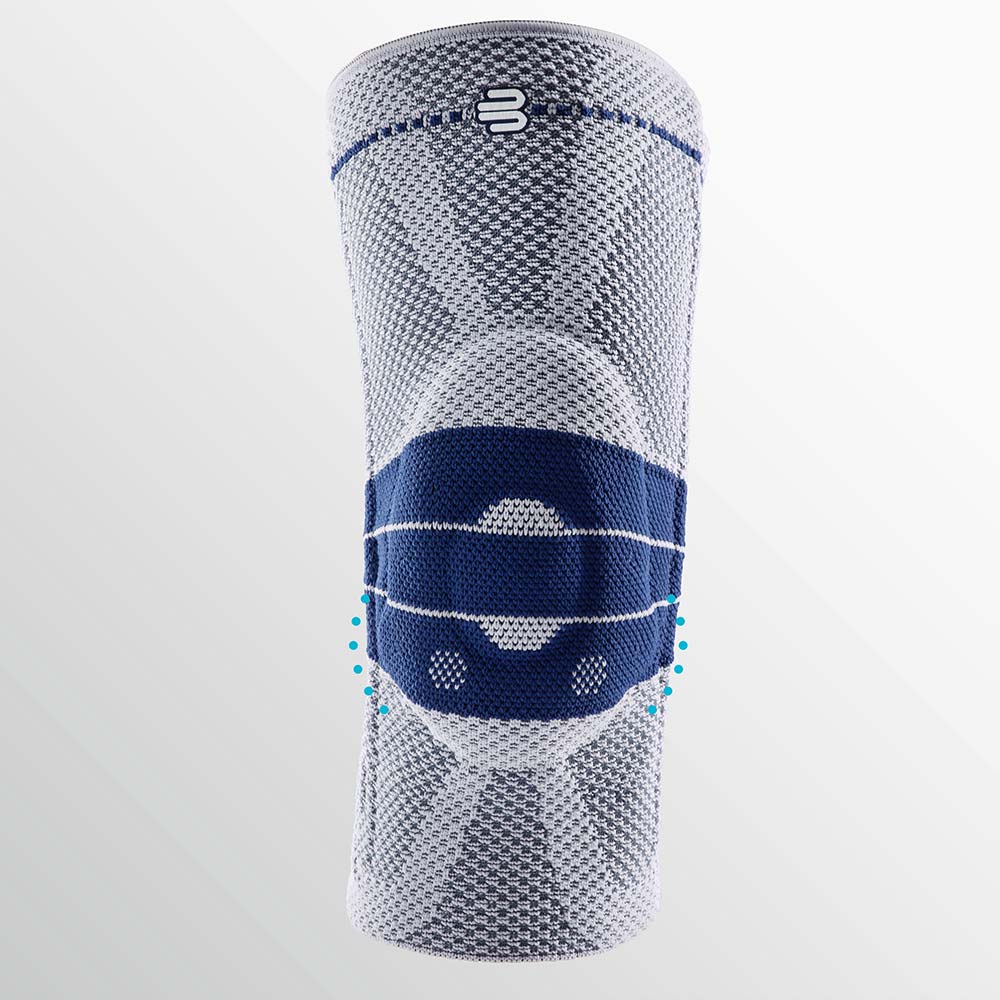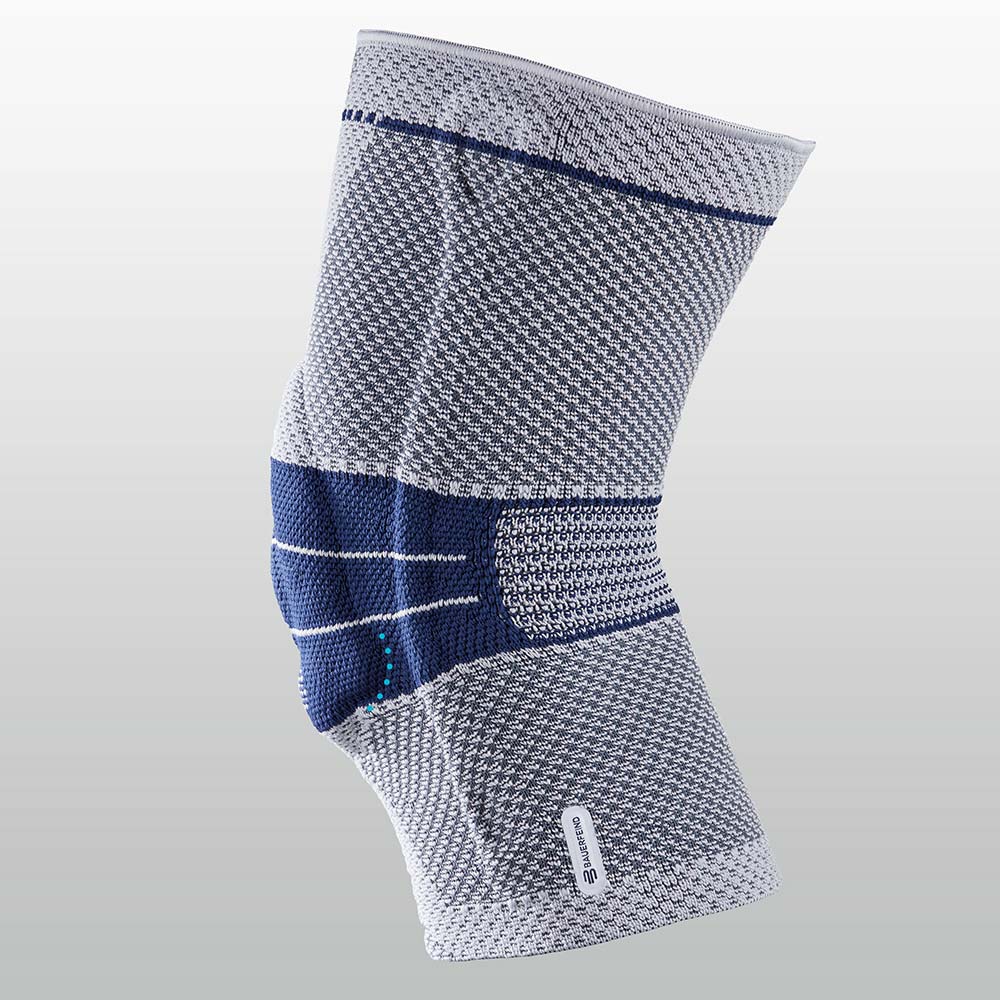 GenuTrain's patented "meniscus wings" work exactly where most pain occurs: at the joint space.

Provide targeted massage to relieve discomfort
Improved design more durable and effective
Relaxes tense tissue for additional pain relief
LEVERAGING THE BODY'S NATURAL HEALING PROCESS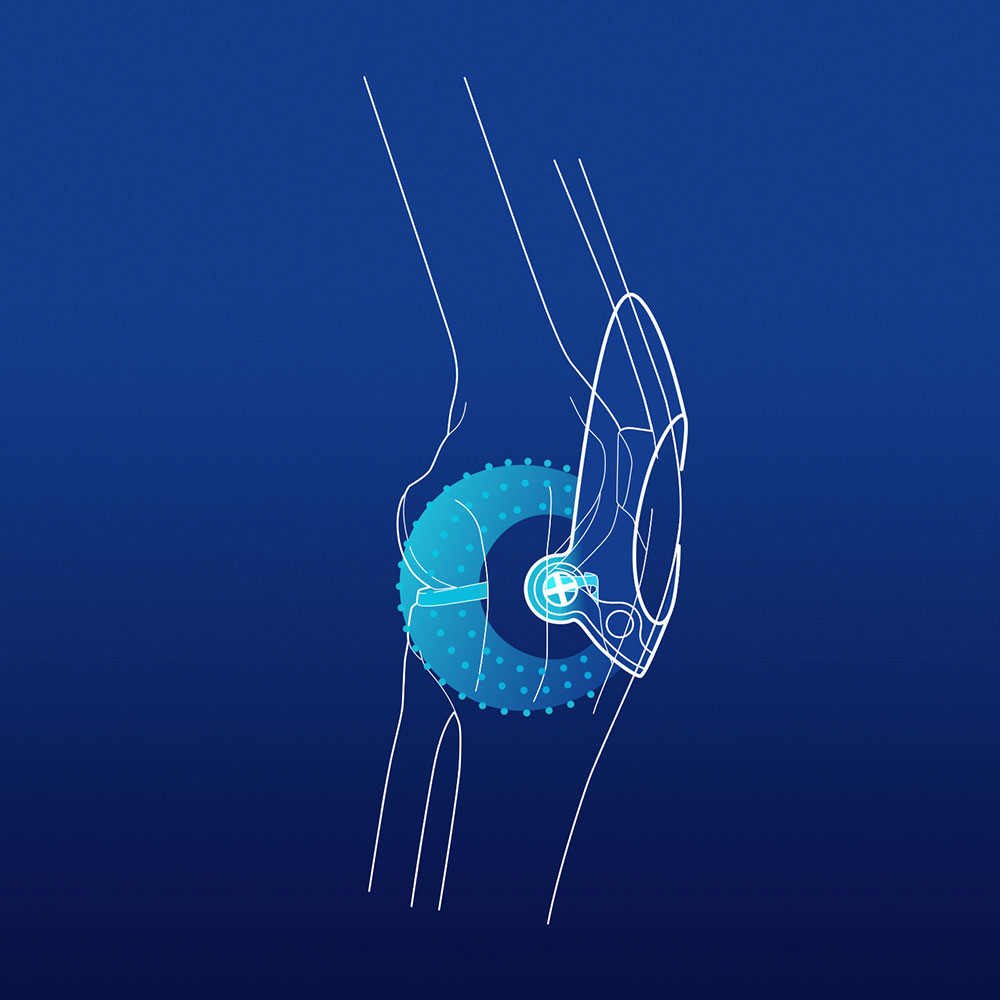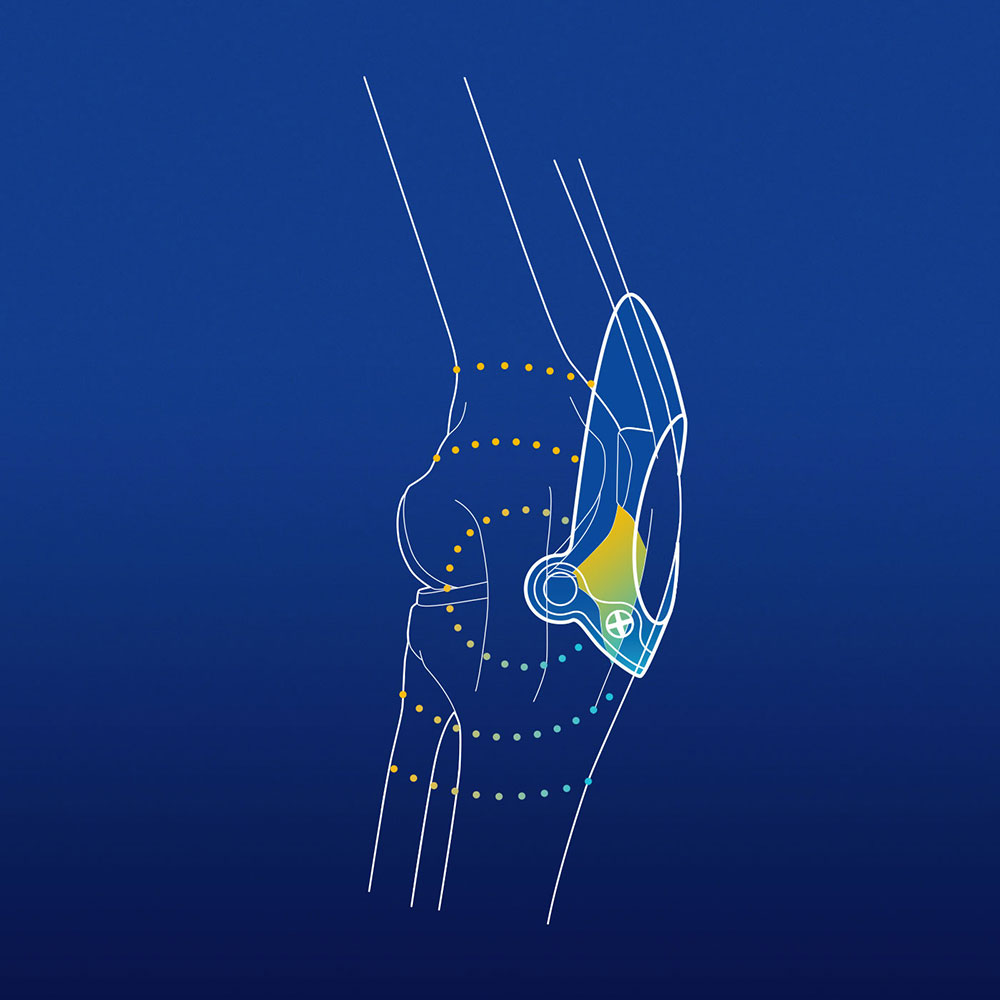 Massaging "Hoffa spots" stimulate the knee's Hoffa's fat pad under the kneecap to promote healing.

Massage nubs stimulate healing process
Reduces inflammation
Pain reduction in combination with compression effect
NEW OMEGA+ PAD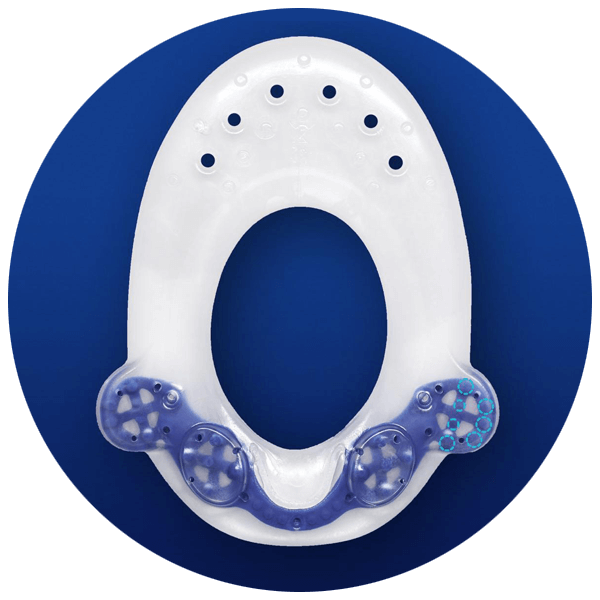 Protects and encases the kneecap, stabilizing the joint and massaging the surrounding tissue during movement. This enhances the pain-relieving and sensorimotoric effect of the support by stimulating two sensitive areas of the knee: the Hoffa's fat pad and the base of the meniscus.
FLEXIBLE STAYS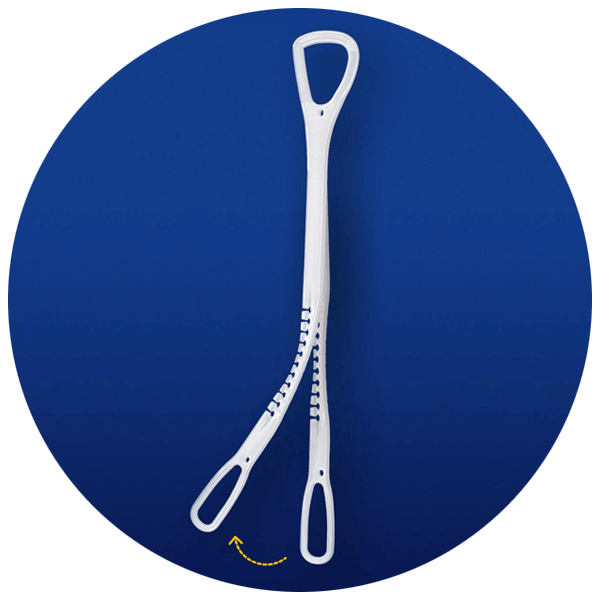 Lateral polyurethane stays embedded in the brace have flexible bending zones to follow the user's movement patterns. Donning and doffing aids integrated into the stays make it easier to wear.
INNOVATIVE COMFORT KNIT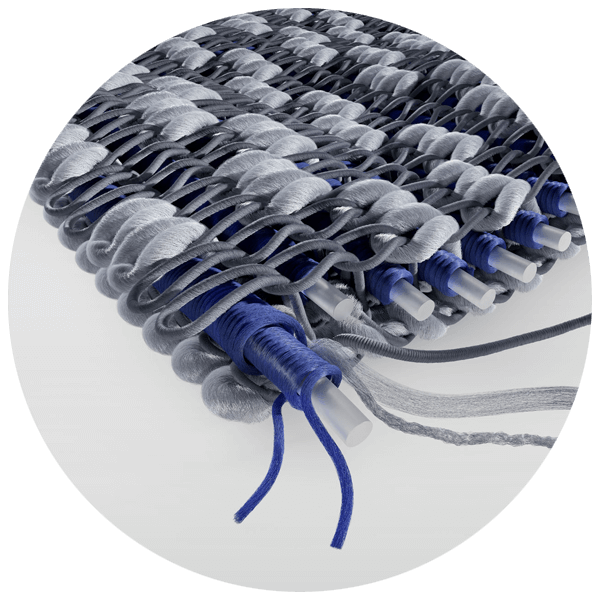 GenuTrain's new soft knitted fabric is now 20% lighter and more breathable, anatomically-contoured and texturized to contact the skin and engage proprioception.
Treatment of

Strains
Tendinitis
Swelling
Pain
Jumpers knee
Runner's knee
Feelings of instability
Lateral meniscus tear
Osgood-Schlatters
Tips for Your Knee
You can find information here about how to keep your knees in top condition!

01 NEW! Donning and Doffing Stays: Made of flexible polyurethane material, 4x more durable than previous GenuTrain
02 NEW! Train Knit: 20% lighter and more breathable, providing better comfort and compliance
03 Extra Comfort Zone: Softer, more breathable knit in the sensitive popliteal area
04 NEW! Omega+ Pad: Patented pain-relieving pad encases the kneecap and provides targeted massage
05 Meniscus Wings: Provide targeted massage and pain relief to the joint space
06 Hoffa Pads: Stimulate the infrapatellar fat pad to promote the body's natural healing mechanism

How to measure your knee for a GenuTrain knee support? 
Measure the circumference of your leg at two points: 4 3/4" below the knee and 5 1/2" above the middle of the knee. 
Product Comparison
Product

Product Feature

Relief, stabilization
and activation of
the knee joint

Increased
stabilization of the
knee joint using
joint splints on the
sides

Irritation(post-traumatic / post-operative)

✓

Recurring joint effusion

✓

Instability
- Mild to moderate
- Severe to complex
- Functional, e.g. non-copers

Mild to moderate

Mild to moderate

Meniscus injury

✓

Osteoarthritis / arthritis of the knee
- Mild to moderate
- Moderate to severe

Mild to moderate

Mild to moderate

(Relapse) prevention

✓

✓
Can I wash it?
Yes. All Bauerfeind supports are made with machine-washable materials. Here's how to care for your brace: For products with Velcro® straps, pads or inserts, remove them if possible, or fasten them securely at the place provided on the brace. Machine wash your brace in cold water using the gentle or delicate cycle. Wash separately using laundry detergent with no additives (do not use fabric softener or Woolite). Lay your support flat and let it air dry; do not put it in the dryer. Proper washing and drying helps your knit support maintain elasticity and original fit.

What if I'm between sizes? Should I purchase the smaller or larger size?
Choose the larger size for gentler compression or the smaller size for firmer compression. When between sizes, the average person prefers the smaller size for a more secure fit, unless you are sensitive to compression. If you are unsure what size you need, contact our experts and we'll be happy to help. Call 62544070 or click to chat live online.